Avon's Cream Eyeshadows are a new product that will be available in the Campaign 1 book. When I heard about them I was kind of excited and thought I might order a demo one to check them out, but decided none of the colors stood out to me all that much. When I received my others orders, though, I was surprised that Avon had thrown one in to try out. It was also in the shade that stood out to me the most..! So, obviously I tried it out.
The shade Avon sent with the order was Winter Taupe - which is obviously a taupe! There are eight shades in total, and the other seven are Exquisite Blue, Pebble Stone, Candy Sorbet, Cool Grey, Sparkling Plum, Frothy Mocha, and Seafoam Green. It was all of the neutral colors (Pebble Stone, Winter Taupe, Frothy Mocha..) that stood out to me. What can I say? I love neutrals.
Anyway, once these shadows arrive in Campaign 1 they'll be $3.99, but they will be $5.99. You get 4g in a small glass pot. While the packaging is pretty nice, there is a lot of excess glass on the jar.. You could have added more product or just cut out the excess altogether. Anyway, here's the description for these shadows:
"Sheer wash of color feels light and fresh, brightens lids with a cool shimmer. Buildable, easy to blend, and smudge-proof."
Alright, so the first thing I want to say is that these cream shadows are unlike any other I've tried before. They're super smooth and silky, and almost like butter. I'm not sure how to describe them other then "super nice!". They also apply really nicely! (I use my fingers to apply this.)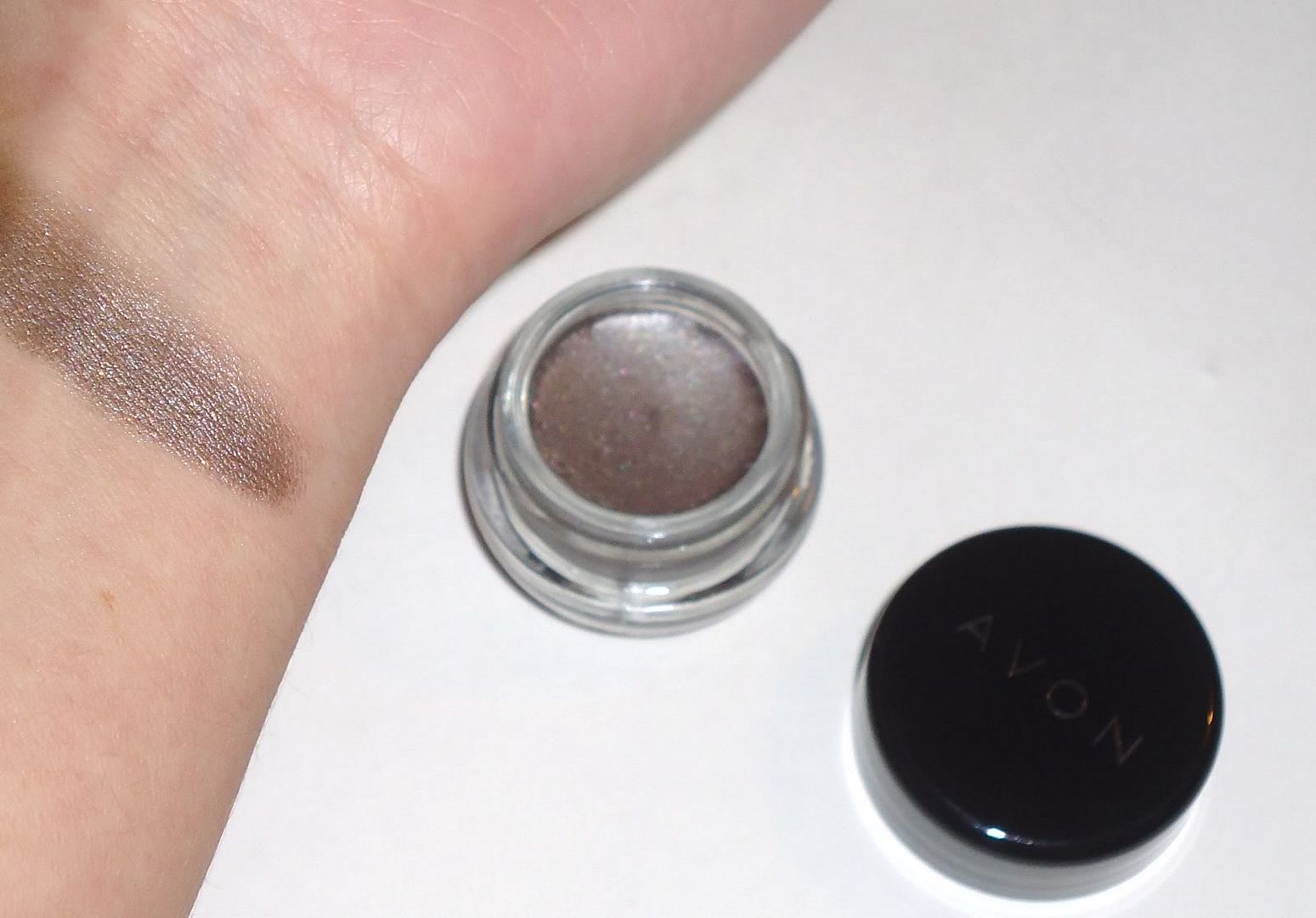 Here's a swatch. This is about two or three swipes so that I could build the color up since they're just a wash of color with one. As you can see it's a really shimmery, almost frosty, taupe. It reminds me of Maybelline's Color Tattoo in Tough as Taupe, minus the shimmer.
This makes a really nice and natural sheer wash of color on the lids. You could just swipe it on and leave it at that for shadows! If you blend it out too much, though, it gets really sheer and you're left with 99% sparkles and 1% hint of the color it used to be - so don't overblend it! If you build it up a bit more it leaves a cool almost somewhat wet feeling to the lids, but then dries. I've also found that this makes quite a nice base as well! So you can use it on its own (as a wash of color or built up more), or as a base for other shadows!
I find that it did fade a bit after a day of wear, so I would probably use a primer beforehand next time. It's also supposed to be smudge-proof.. Well, I kind of rubbed my eye before I got to taking my makeup off and this pretty much disappeared on the side of my eyelid that I rubbed, lol. So I don't think it's completely smudge-proof.
Anyway, I think that this quite a nice cream shadow but I'm not sure if I'd purchase another. I'm glad that I was able to try one out, though! It was nicer then I thought it would be!