I've been wanting to try out a lip brush for a while now.. I didn't want something too expensive, but I also didn't want something so cheap that the quality was no good. Avon recently came out with a lip brush, though, and I thought "perfect!". At $4.99 it wasn't too expensive nor too cheap, and lately I've found that the quality of Avon brushes is better then I previously thought so I ordered one to try out.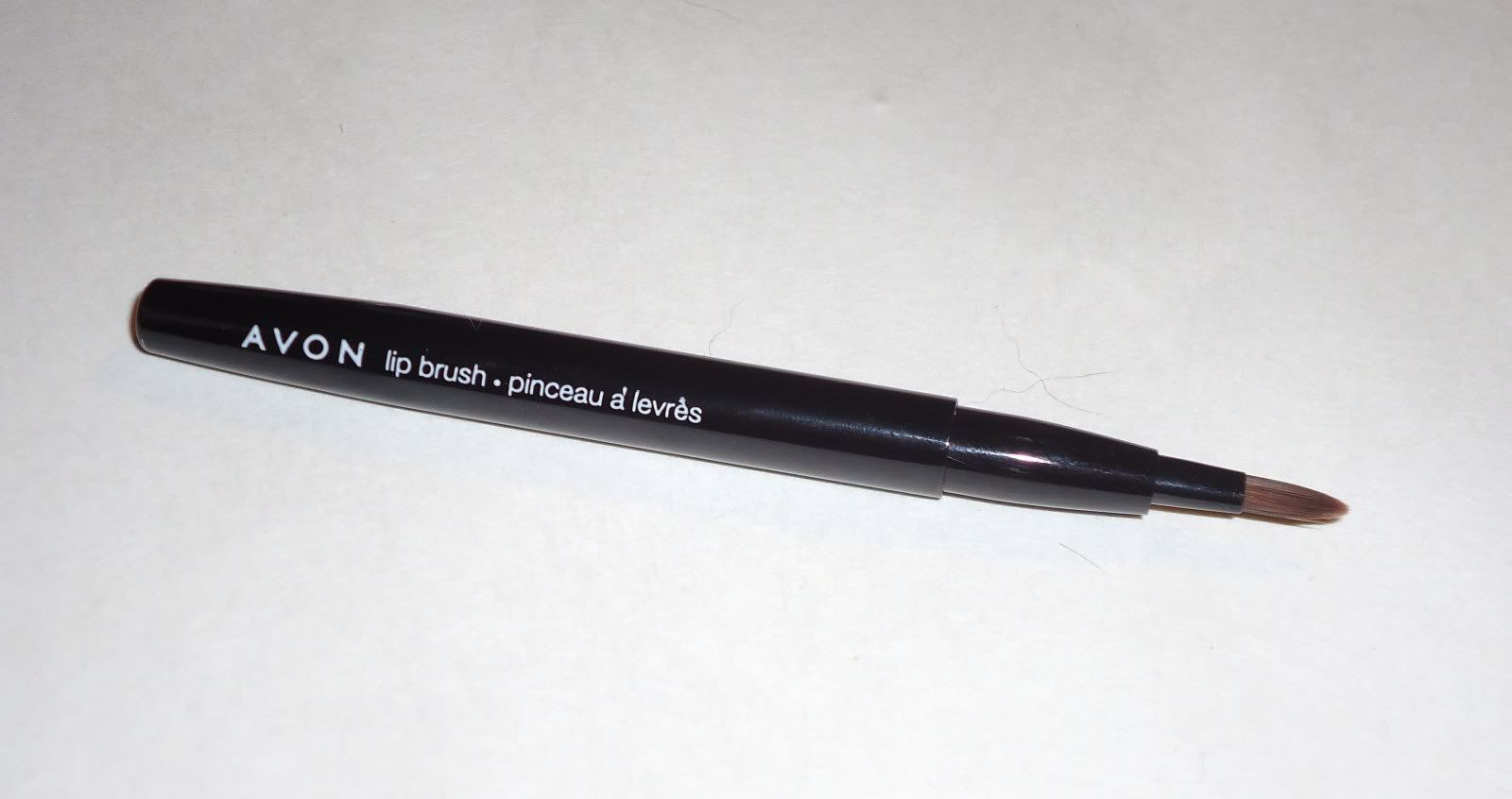 So this is Avon's Retractable Lip Brush. It has "firm natural bristles with a tapered tip for precise application. Retractable, protective cover." It's 11cm long.
This is what the brush looks like originally before you take the cover off and put the brush up. When you remove the cover you get this:
There's a little knob on the end of the piece on the top which pushes the brush up. To push it up you simply put the cover onto the end. If that's confusing I took a small video to show you how it works!
Tadah! It's a handy little compact thing. Now let's get into how it actually performs and such..
To start off this is the first lip brush I've ever tried so I don't have anything to compare it to..! To shorten this up, this isn't a bad product - I just personally don't care for it that much. I'm glad that I didn't try out a more expensive lip brush because I just don't think they're for me..!
I found that this brush was a little stiff.. It's also very fine and small which is nice for precision but also makes doing the entire lip a longer process. I found it very tedious to apply my lipstick with this as I had to keep going back for more product. No matter how many swipes I took there never seemed to be enough product on the brush. It took me so much longer to apply lipstick this way, and to me it just wasn't worth it. So again, I'm not saying I hate this brush or anything, it's just not my style. I prefer applying my lipstick straight from the tube!
Also, applying lipstick with the brush gave a much more sheer coverage. If I tried to build up the color/opacity the brush just moved everything around, so a more sheer color was all I could get from this brush. So again, I prefer my lipstick straight from the tube. As a pro, I'm able to make my more opaque and dramatic lipsticks more sheer if I want them to be. This brush gives the lips an almost 'tinted' look with whatever lipstick you use. Other pros are that this brush is great for getting into the corners of the lips which can be tricky straight from the tube. I can see myself using this brush for that! I imagine that this would also be great to create ombre lips or add a little dimension to a color.
So while I probably won't be using this brush to straight up apply lipstick, it will be great for other little things! It's good for getting the corners of the lips, creating special lip looks, and allowing you to make a lipstick more sheer and natural like a tint if you want.
So, here's a question for you! Do you prefer to use lip brushes to apply lipstick, or apply straight from the tube like me? And as always, thank you for reading! :)