So, here's the eyeliner that our family friend brought me from Hong Kong. It's Hope Girl's Super Black Pen Eyeliner. Hope Girl is a brand I've never heard of and can't seem to find much on.. With a search all I can find are a few items on ebay and such or a few reviews here and there, but no actual website.. If you know of one let me know!
When I saw this, though, I was instantly drawn in by the packaging. Leopard print? Yes please! I love anything and everything cats - big or small. When I searched the brand I saw that leopard print seems to be their thing..! I like.
So, here's the packaging of the actual product - I really like it! Obviously, I love the leopard print, as well as the black and gold combo. It's styled like a pen as the name suggests, and just about reaches the tip of my pinky when holding it up against my palm.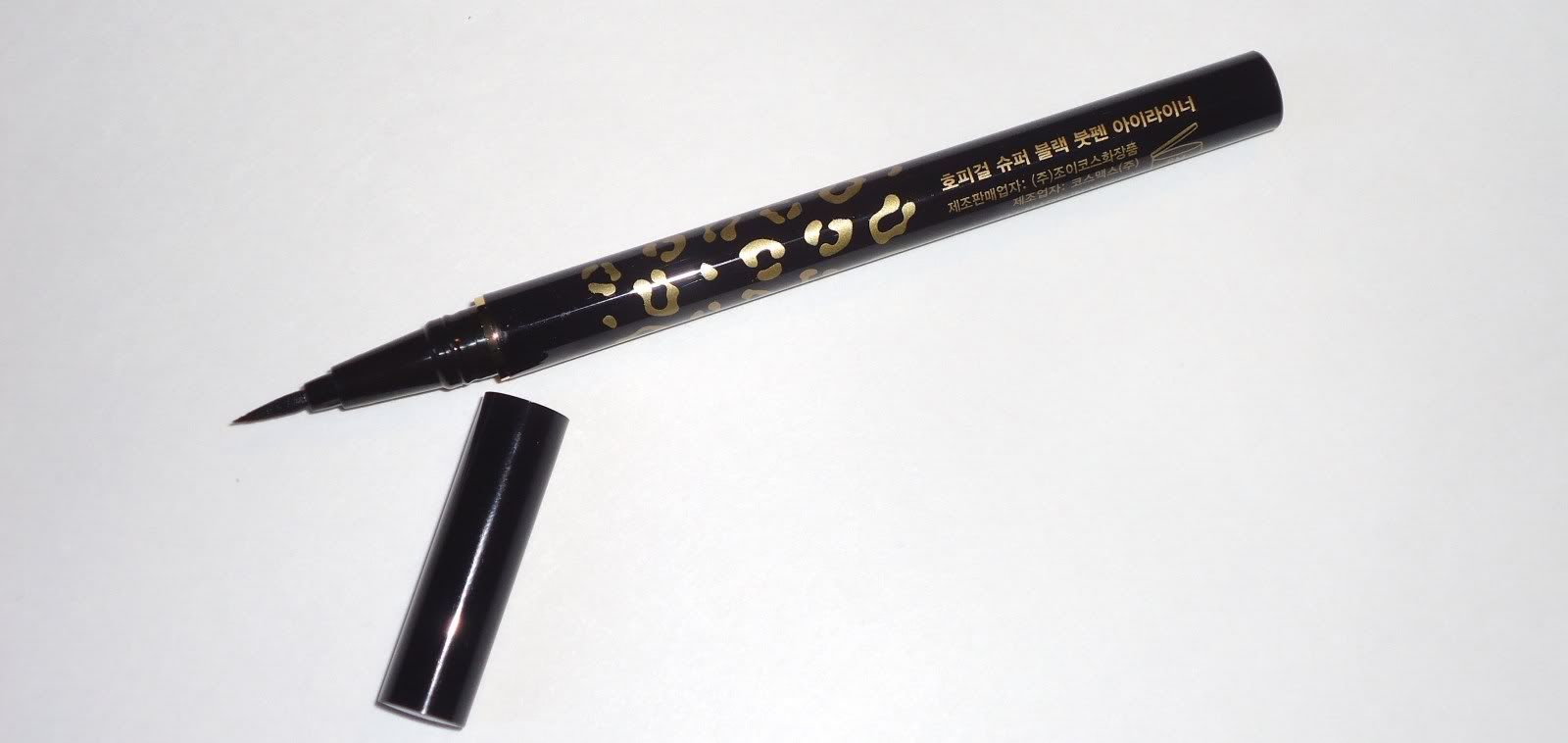 You simply pull the cap off, and here you can see the felt tip, which is also flexible. This liner is named Super Black and it is quite black! It doesn't try completely matte, and it's not too shiny.. it's a typical liquid liner finish.
The tip is very thin, fine, and precise. You can easily create a thick or thin line. It's a very nice liner.. There's not too much to say about it..! You could compare it to Lancome's Artliner (or I guess really any other felt tip liner), with the flexible and fine felt tip as well as its precision. I prefer using my trusty Artliner, but that's what I'm used to using and I've only used this liner two or three times. I also feel as if the Artliner tip may be a bit more flexible.
This liner has pretty good lasting power. If anything, it will fade just a little. If you have it near the corners of your eyes though it may smudge a bit if your eyes water or anything. I wore a winged line with this liner and rubbed my finger on it and it didn't smudge - just lost some of that "super black"-ness. Pretty good!
When I first swatched it on my hand it did run a tiny bit into the lines of my skin (not sure how to explain, hope you get what I mean!), but I didn't experience that on my eyes.
Overall it's quite a good liner! It's pretty standard and typical, but it's a good one! If I were to run out of my Artliner I would consider purchasing this to replace it :)