The Too Faced Natural Eye palette is something that has been on my makeup wishlist for a long time, so I was very excited when I recieved it as a gift on Christmas!
The Natural Eye Neutral Eyeshadow Collection is "an all-inclusive kit that includes nine essential shadows for all-over lid color, highlighting, smudging, and more" and is $44CA.
This palette comes packaged in a super cute boxed style with a secure magnetic closure, and is quite portable and travel friendly. It contains nine shadows: the first three of each row being 0.07oz, while the remaining six are 0.03oz.
It also comes with three "how-to" cards for different looks you can create that are very cleverly hidden away inside the lid! I haven't tried out any of the looks but I plan to! Now,moving onto the actual shadows..
Here's a closer look at the eyeshadows. The nine shades included are Heaven (a matte ivory), Velvet Revolver (a matte taupe), Sexpresso (a matte deep brown), Silk Teddy (described as a peach champagne shimmer), Push-Up (a light bronze shimmer), Erotica (a soft charcoal shimmer, though I see it as a deep greyish brown), Nude Beach (a champagne shimmer with gold glitter), Honey Pot (a gold shimmer), and Cocoa Puff (a warm chocolate brown shimmer).
I really love that this palette includes some mattes, and not just shimmers. The three matte shadows (Heaven, Velvet Revolver, Sexspresso) are all really soft and nice whereas other mattes I've used can sometimes have a 'harder' texture. These mattes are also nicely pigmented and apply very evenly!
All of the other shadows have that lovely silky, buttery, and soft texture and are very pigmented. I found Erotica to be a tad gritty, and Nude Beach to be even more so, but that would be because it contains glitter. I also found the same two shades have some fallout issues, but Nude Beach is the worse of the two, again because of the glitter. I only have fallout with Erotica when I accidentally pick up too much product, though!
I found that Cocoa Puff and Erotica could also swatch a little unevenly and streaky, and I found Cocoa Puff to be the more difficult of the two. Otherwise, all of the shadows apply evenly and really nicely. Nude Beach, again, can be a bit difficult to work with because of the glitter, but all of the other shadows all blend really nicely and are easy to work with. The only shade that I had a little difficulty blending was Cocoa Puff.
Overall, I'm very impressed with these shadows and really like them! I think I still favour Urban Decay's shadows but these are a close second! I think I prefer the texture and such of Too Faced's mattes, though! Anyway, onto swatches! They will all be swatched without a base or a primer (these also wear really well without either, btw)!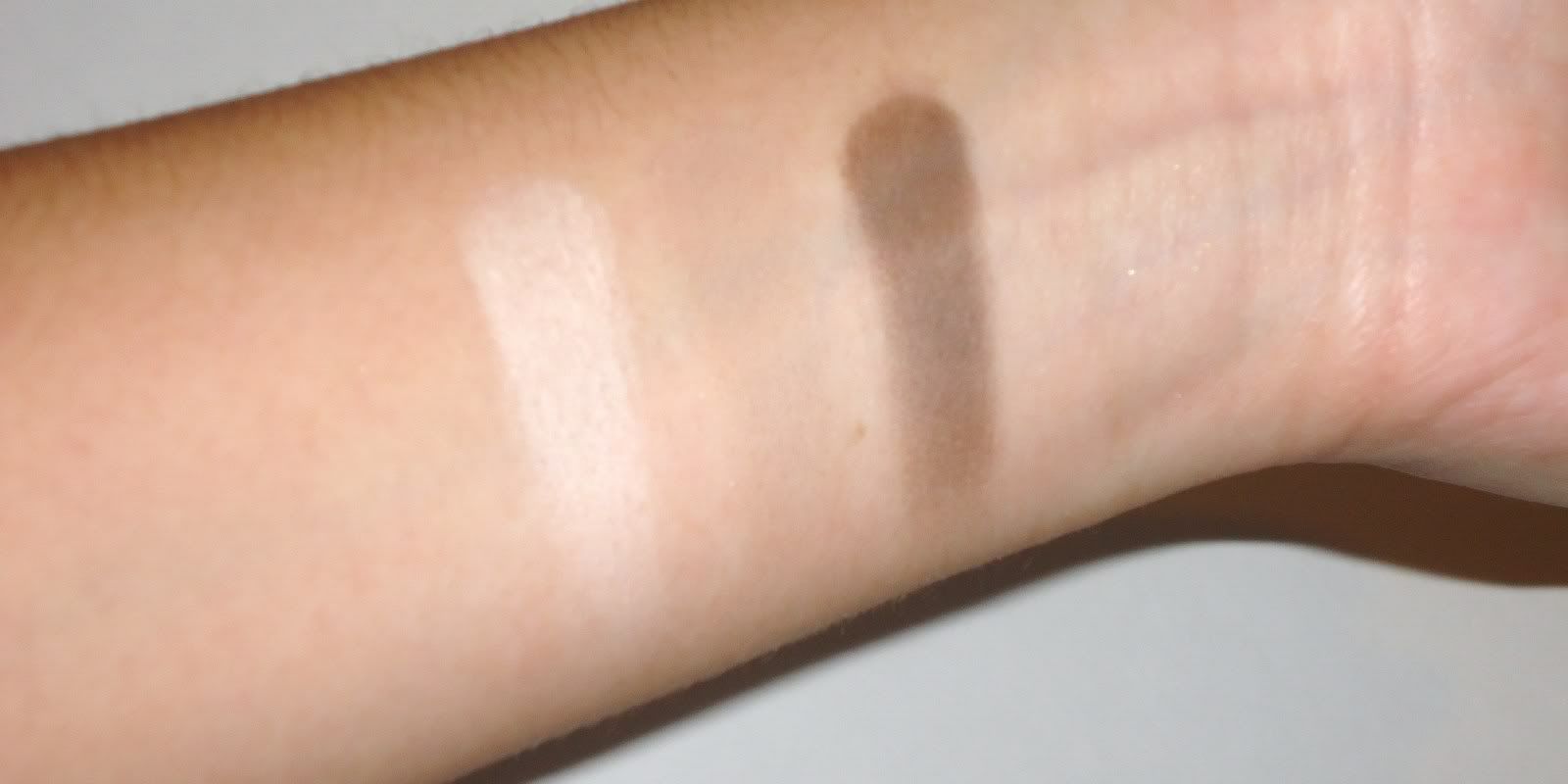 Heaven, Velvet Revolver, Sexspresso
Velvet Revolver doesn't really show up all that much on my skintone, so I like to use it to blend out edges and such! I really love these matte shadows, though - very impressed!
Silk Teddy, Push-Up, Erotica
Nude Beach, Honey Pot, Cocoa Puff
You can see here that I had trouble with getting Cocoa Puff to swatch evenly! It's really the only shade that I really have issues with - but it's nice so I work through it!
Silk Teddy and Nude Beach, as well as Push-Up and Honey Pot I find are pretty similar. I feel the only difference between Silk Teddy and Nude Beach is the glitter. With Push-Up and Honey Pot, while similar, Push-Up is darker and more bronze.
So what do you think? I love it, and I'm very happy that it's finally a part of my collection!