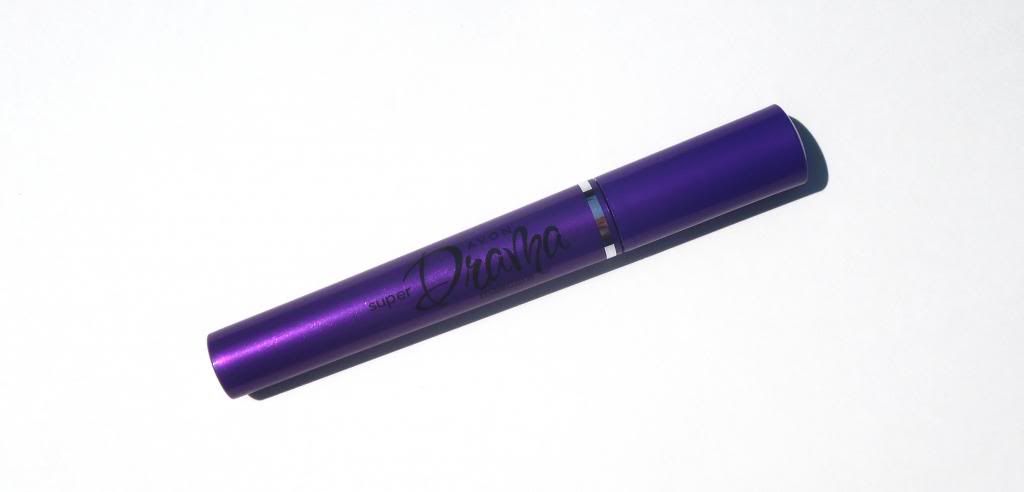 I accidentally ordered an extra tube of Avon's Super Drama mascara during the last campaign, so instead of returning it I decided I might as well review it. Here's what Avon has to say about it on their website:
"Show-stopping lashes with a flair for drama! Add volume and length instantly without clumping. Unique brush and formula make every lash fuller, longer, and more dramatic! Smudge and flake resistant."
Before I talk about performance let's talk quickly about the packaging. It's nothing too exciting, just a regular purple tube.. I noticed that the cap on it isn't very secure at all though, which is irritating. It doesn't have that click that other mascaras have where you know it's closed properly and don't have to worry.
Moving on.. The brush is made of plastic and flares out all around. I don't usually like plastic mascara brushes but this one was fine (though for some reason I was a little scared to get too close to my lash-line in fear of poking my eyes out, haha). As for the formula, I would say it's on the dryer side. It lengthens and separates well, but doesn't really offer much volume at all which was a little disappointing to me. To be honest, I think the name is a little misleading because I found it to be more of a natural looking mascara then a 'super dramatic one'. Despite this, it's still nice though.. It perks the lashes up in a nice, more natural way, doesn't clump, wears well all day, and doesn't give the lashes that crispy feeling you might get with other mascaras. If you prefer a more natural looking mascara, give it a try. On the other hand, if you prefer super dramatic lashes I would skip it!