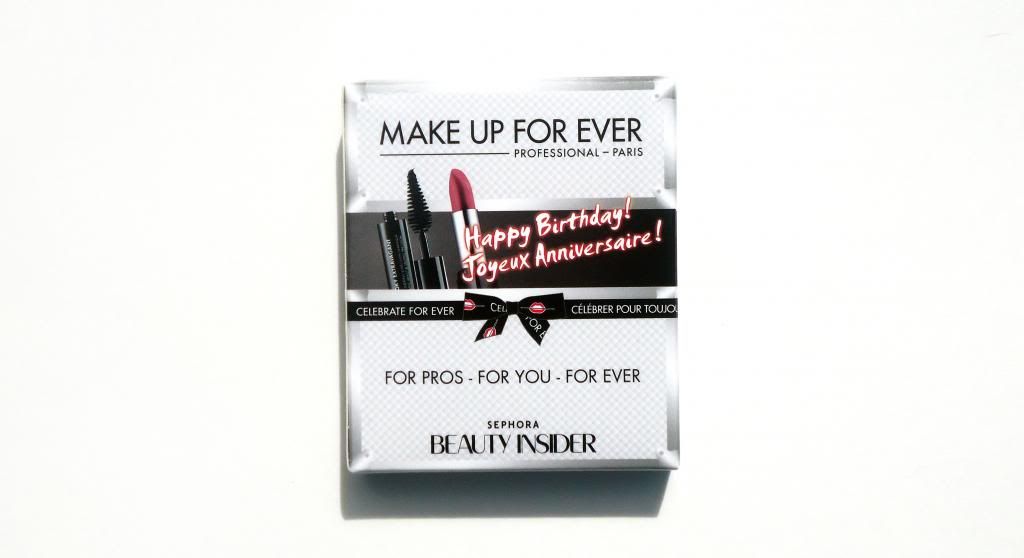 My birthday was back on August 3rd, but I'm just now getting around to posting on this years Sephora Beauty Insider Birthday Gift.. I'm a bad blogger, haha. Anyway, this years gift is from MAKE UP FOR EVER and includes deluxe samples of their Smoky Extravagant Mascara ($28CDN) and Rouge Artist Natural Lipstick in the shade N9 ($23CDN). I've been wanting to try this particular mascara and I already love their lipstick so I was excited!
Let's take a look at the mascara first.. It claims to be "a precision mascara that adds volume, length, and curl".
The formula is definitely on the dry side, and while I usually like drier mascaras I found that this one was a bit too dry for my liking. Here's what 2-3 coats looks like on my lashes:
With the first coat of this mascara I felt like it didn't really do anything at all (probably because I found it so dry), so I needed to apply at least two coats before I noticed any difference in my lashes. I think it could definitely add more curl and volume, but it did a good job at lengthening and separating. I wasn't super impressed personally, but I actually got comments on my lashes when I wore this so that earns a thumbs up!
Next up is the lipstick, which claims to be "ultra-creamy" with "a translucent soft, shiny finish". I already reviewed and raved about another shade of the Rouge Artist Natural back here, so check that out if you like! Anyway, N9 is described as a "copper pink". Here's some swatches: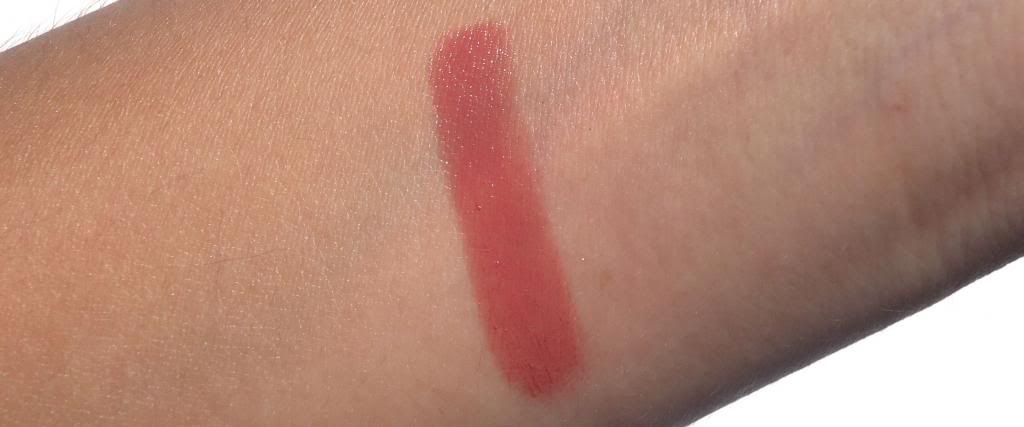 On me, N9 is a pretty good my-lips-but-better shade. When I first looked at it in the tube I was unsure about it, but I actually like it a lot! As for the formula and such, my thoughts are pretty much the same as the other shade of Rouge Artist Natural I've tried.. It's creamy and easy to apply, comfortable to wear, nicely pigmented, and it leaves behind a slight stain so it wears well for several hours. All in all, it's a great lipstick and I'll definitely be getting a lot of wear out of this shade! If you're a Beauty Insider let me know if you got this birthday gift yet, and if you did then let me know what you thought of it!