Today I'm really excited to be reviewing this new, limited edition Liquilights Glow Gloss Kit by Makeup by One Direction for you! This kit along with two others (one of which I'll also be reviewing) launched on November 15th and should be available in stores such as Macy's and Dillards. For more updates and info be sure to like the official Facebook page here. Okay, let's get to the makeup..! Here's the description from the back of the box:
"Liquilights Glow Gloss sparkles brilliantly during the day and illuminates under UV black light after dark. Enriched with natural oils and Vitamin E to keep your lips soft and hydrated all day and all night. Gloss can be worn alone for a pop of sparkle and color, or paired with One Direction Crème Lipstick for a bolder look."

The kit comes with three glosses that are named after One Direction songs, which I find really cute. From left to right is Kiss You, Taken (one of my favorite songs off the Up All Night album!), and Through The Dark. As for packaging, they come in square tubes with a brick pattern on the caps and have paddle-style sponge applicators (like a doe-foot applicator but.. paddle shaped). Onto the swatches..!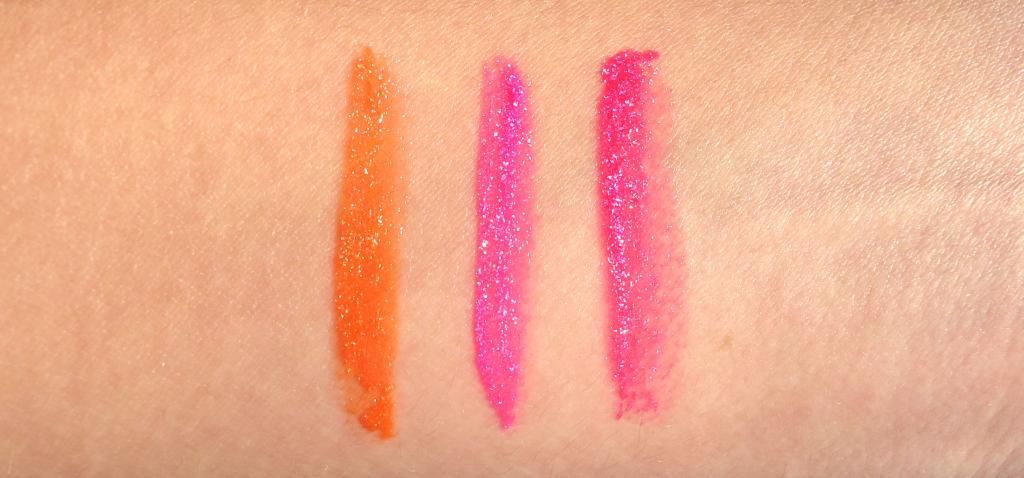 Here's a wrist swatch in the same order as above.. I wasn't expecting them to be as bright as they are but I was pleasantly surprised! Kiss You is described as an "orange glitter rush that glows to neon yellow under UV light"; Taken is described as a "powerhouse glitter pink that glows to neon pink-orange under UV light"; and Through The Dark is described as an "electric glitter poppy that glows to neon red-orange under UV light". Unfortunately I didn't test the glowing part as it didn't interest me personally, so I apologize if you were curious!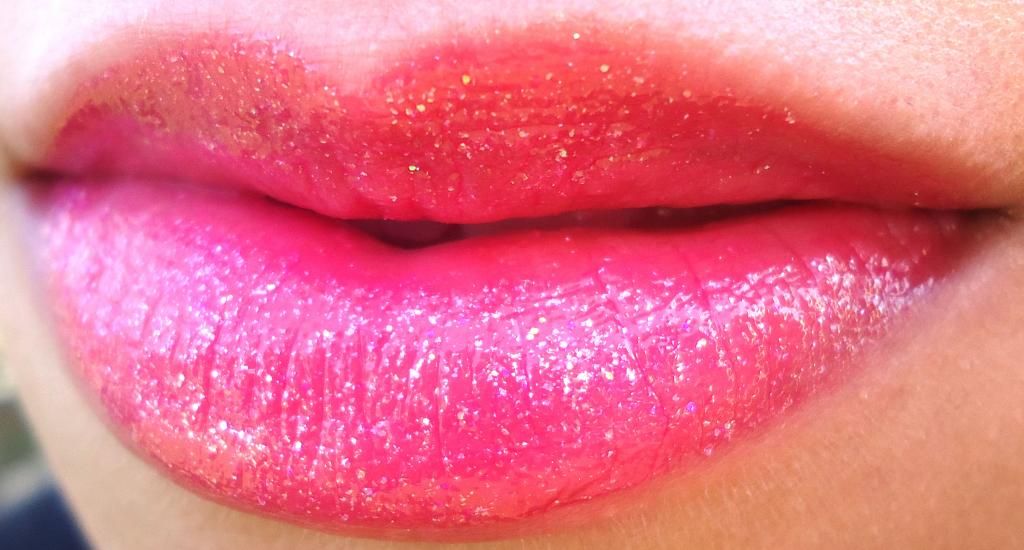 'Through The Dark' Applied
I thought they might sheer out once applied to the lips, but they actually have pretty great color pay-off! While I like all three shades, Through The Dark would have to be my favorite as it's the most subtle in terms of glitter. As for the formula, it's super smooth and slick, is comfy on the lips, and isn't sticky or tacky at all. The applicator is nice and soft, easy to use, and has enough product on it so that you don't need to go back for more which is nice. These glosses do have a slight generic lip-gloss taste and scent to them which I usually hate, but I find that I'm able to tolerate it which is great . Last of all is the wear.. Since the formula is more slick and is non-sticky it only wore for about two hours on me during a five hour shift. This is fine with me though, as I would rather have a shorter wear time then sticky lips, haha. I'll admit that I was a little skeptical of this makeup line at first despite being a One Direction fan, but I'm actually quite impressed with these glosses! If you have a 1D fan in your life this kit would make a perfect gift for the holidays!
*Post powered by Brandbacker.
*This product was provided to me by the company, but as always my thoughts are 100% honest!