I'm back with another Makeup by One Direction review! This time it's on the limited edition Rock Me Nail Varnish Kit, which should be available now in stores such as Macy's and Dillards along with the Liquilights Glow Gloss Kit I previously reviewed. If you're looking for more info or updates on the line, check out and like the official Facebook page here. Before we continue, here's the description for this set from the back of the box:
"Rock Me Nail Kit, featuring UV-reactive nail varnish and UV-reactive glitter nail toppings that add even more sizzle to your mani, for nails that light up day and night. Sprinkle the glitter over wet polish for a subtle accent, or go for the glitz and dip your entire wet mani in mega-watt sparkle!"
The kit contains three nail polishes and three jars of glitter, but I'll only be reviewing the polishes today (sorry!).. The loose glitters just aren't my thing; but if you're more into nail art then I am then it's a nice little addition.

The three polishes included in the kit are, from left to right, Happily, Moments, and Diana. Like the glosses, they're each named after One Direction songs. The bottles are square with a brick pattern on the caps, and contain 8.0ml of product. The brushes are on the wider side which I personally prefer, but the hairs themselves are slightly thick and cheap looking.. This didn't seem to affect the application though because I didn't experience any problems.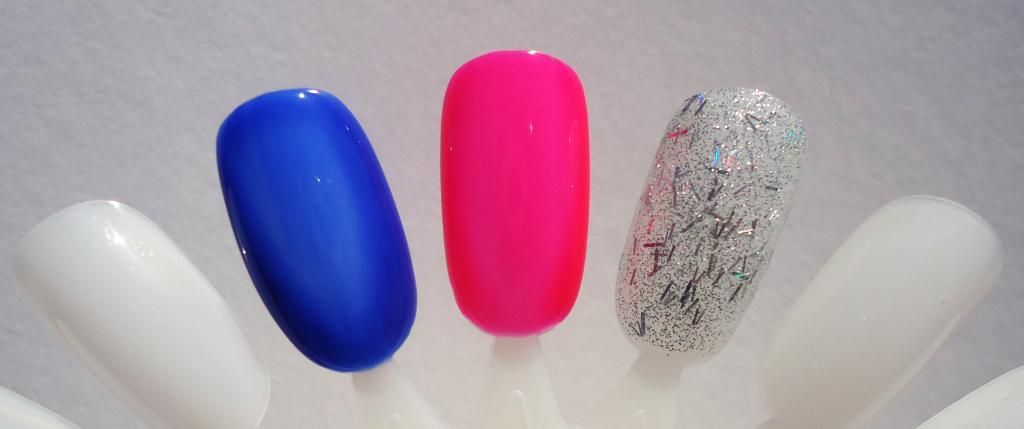 Here we have some swatches in the same order as above. I'm going to run though each shade quickly, so let's start with Happily, which is described as an 'iced blue'. It's a really nice shade, but for some reason the polish refused to stay on the center of the nail (even with four coats which is what I used above) and kept pooling to the sides. Bummer. Next up is Moments, which is described as a 'neon pink'. The formula on this one was fine, and was opaque in just two coats. The color is super fun and bright which makes me really miss summer, haha. And last but not least we have Diana, which is just described as a '3D holographic'.. I'm not usually a fan of bar glitters but I actually like the way this one looks! I used two coats in the above swatch, and the glitter dispersed nice and evenly which was nice. Okay, time for a verdict.. If you're like me and won't use the loose glitters you could probably pass on this kit since one of the polishes is a bit of a dud, and it might not be worth it for just two shades.. If you have a One Direction fan in your life who's really into nails however, it could make a great gift. So, what's your opinion? Yay or nay?
*Post powered by Brandbacker
*This product was provided to me by the company, but as always my thoughts are 100% honest!