Today I have another red lip product to share with you! This is Laura Mercier's Crème Smooth Lip Color in the shade Red Amour ($32CDN). The packaging is super sleek and simple, but unfortunately it's a total fingerprint magnet. Other then that, I have no complaints though. Before we continue, here's Sephora's description of this lipstick:
"This cream formula envelops lips in rich color with a semi-lustrous finish that lasts six to eight hours. The cushiony, lightweight texture feels comfortable, while pure olive oil and vitamin E nourish lips. Color glides evenly onto lips without skipping, dragging, feathering, or setting into fine lines. You'll have the appearance of visibly fuller - and younger - looking lips in just one swipe."
The formula is also fragrance free (yay!), and is dermatologist and allergy tested to minimize the risk of allergy and irritation. Good stuff.
Red Amour is described as a 'classic neutral red', but to me it comes off as pretty warm-toned. The finish is super shiny which I'm not a huge fan of, but you could always blot it with a tissue to tone it down a bit. When left alone, the shine seems to last for about an hour though. The color is nice and opaque, and the formula is really creamy and smooth. Like the description states, it glides on without any skipping or tugging.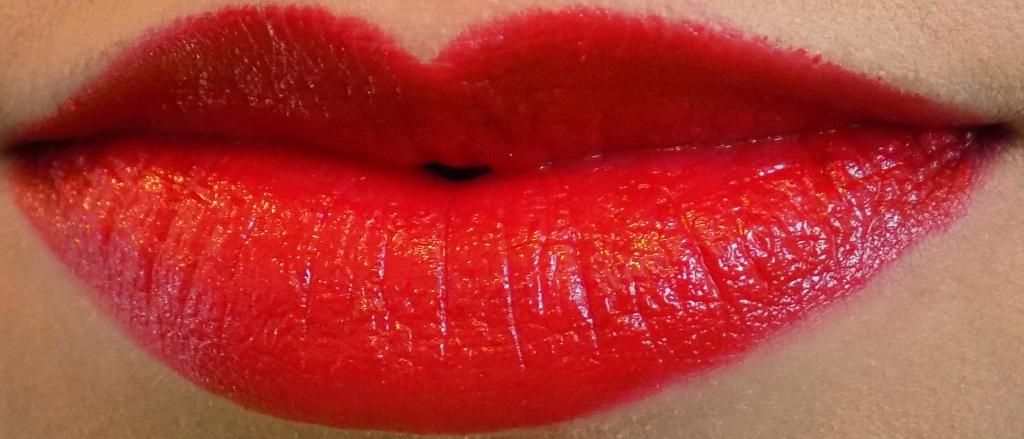 The formula is comfortable to wear, and is neither particularly hydrating or drying. Despite the creamy texture it doesn't slip around on the lips, and while it doesn't bleed I would still recommend a lip-liner just to make it look more precise (especially on the top lip)! It does transfer if you're eating or drinking, but it wasn't until about two and a half hours of wear that I noticed the color starting to fade. It fades evenly and also leaves a pretty stain though, so you don't have to worry too much about touching up. This is the second Laura Mercier product I've tried (the other being a lipgloss I love but have yet to review) and so far I'm really impressed. I had never really looked at the brand much before, but I'm definitely more intrigued now!