I was up in Ontario last week for my cousin's wedding, and while I was there I made sure to drop by Pacific Mall and pick up some goodies! I've been wanting to try out more Korean cosmetic brands and this is what I ended up getting! It's.. mostly lip products, haha.
Let's start with The Face Shop! I ended up getting four of the Over Girl Edge Lip Crayons in the shades PP01, BE01, RD02, and PK03 (I wish they had actual names!). I also picked up one of the Lovely Meex Mini Pet Perfume Hand Creams in White Floral (it's a cute little kitty and I just couldn't resist), a Milky Moisture Tint in the shade 03 Apple Red, and a Perfumed Body Mist in Sugar Berry which I forgot to include in the photo (smells sooooo yummy).
Next, from Too Cool For School I got a Milk Tint in the shade Milky Red, and one of the Cats Street Hand Creams in Lily & Jack which I got mostly for the cute cat on the tube, haha.
I got one thing from Tony Moly, which is their Lip Click Styling Color in the shade M02. I had wanted to get a tube of my favorite Cats Wink Mascara as well, but was informed that it's been discontinued.. I'm still trying to recover from that. I also picked up a Macaron Lip Balm in Strawberry from It's Skin which is super cute and smells delicious.
From Etude House I got a Fresh Cherry Tint in the shade RD301, and one of the Dear My Wish Lips-Talk lipsticks in the shade PK003.
And last but not least is 3 Concept Eyes (or 3CE), where I got a Red Stain For Lips in the shade 02 and a free mini lipstick in the shade 03 that I can't find the product name for, haha.
Oh, and I also got one more thing from Nature Republic which is..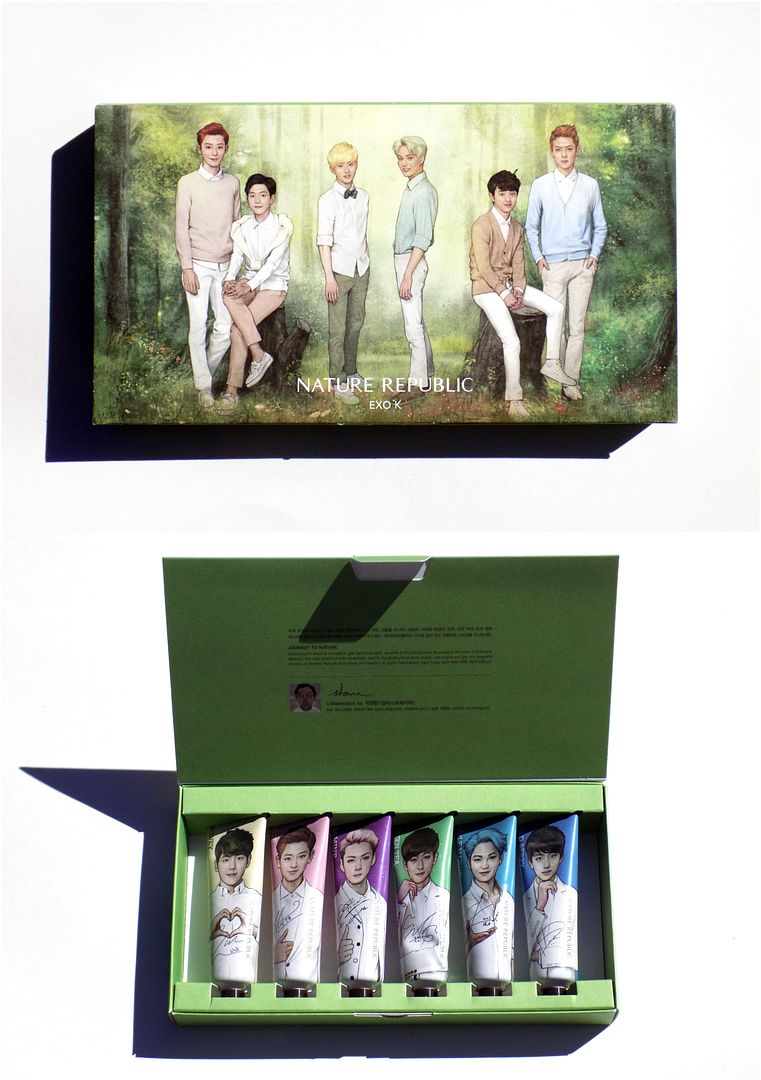 ...an EXO-K (a subgroup to the Korean boy band EXO for those who don't know) hand cream set, haha. I'm not sure if I can bring myself to actually use them though..! Anyway, I've already started testing out some of these products so I'll definitely be posting reviews for them in the future. In the meantime, let me know if there's any other brands or particular products that you think I should try!